Campaigns are a great tool to track events in Salesforce. They are designed to organize and analyze contacts involved with a certain marketing program. Campaigns help you to calculate the ROI of your program by allowing you to track the cost, pipeline, and closed deals associated with it. The broad applicability and flexibility of campaigns allow them to be used for all marketing programs while helping you determine the performance of your events.
Salesforce Campaigns 101
Salesforce defines Campaigns as "an outbound marketing project that you want to plan, manage, and track within Salesforce." If you don't see a "Campaigns" tab on your homepage already, you can click the "+" sign on the top, click "Customize my Tabs" and carry it over to the right hand side. From there you can create new Campaigns and views of existing ones.
To add leads or contacts to a Campaign you can select Manage Members and import a list of new leads or a list of existing leads if you have their Salesforce Lead/Contact ID number. You can also add Campaign Members from a Report, Lead/Contact View, or individual record. Campaigns can be used to create lists of people to invite to events and to track booth check-ins at conferences.
Customizing Campaigns to fit your needs
To most effectively use Salesforce Campaigns for events you'll want to customize the Page Layout to fit your needs. Customizing the layout may mean creating new fields, editing which fields are displayed on your page, and/or organizing it in such a way that helps you review, evaluate, and report on your programs.
For example, in our organization, we use "Type" to identify the marketing program the campaign is for, such as Webinar, Conference, Private Event, Offer, etc. We then create a new Campaign for each Marketing Program we launch and track the number of "Members" (how many people have engaged with that program) and their "Member Status" (how they participated in the event).
Using Member Status for events
Member status is a great way to differentiate Campaign Members based on how they've interacted with your events which will allow you to track and report on these people more effectively. Examples of Member Statuses for in-person events:
Conferences: Registered, Booth Check-in
Private event: Invited, Registered, Attended
You can update your Member Status options within Advanced Setup in your Campaign.

Here you will want to decide which Status will be your Default (ie. when someone is added as new, what are they considered?) and what will indicate that someone Responded (i.e. engaged with your Campaign).
These will vary based on the type of Campaign you're working with. For our programs, we use "Attended" for in-person events and "Booth Check-in" for conferences to track the number of people we had a chance to engage with as part of those programs.
Using "Responded" to track engagement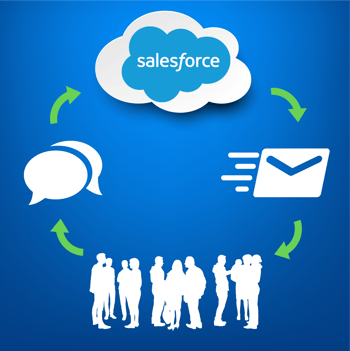 Salesforce offers a roll-up summary field which calculates the number of the people in a campaign who are marked as "Responded". At Attend, we use Salesforce Campaigns to track results from every marketing program. For example, with Content Downloads we use HubSpot form submissions and for Events we use the data from the Attend check-in app to update Campaign Members. There are a number of ways to get event registration and attendance data into Salesforce like CSV imports or manually updating records. However, using a system that allows for a sync will make it much easier to update SFDC with event information.
Within the Campaign you'll have the ability to see things like the number of Leads and Contacts in the Campaign, the number of members in Responded, the total cost, pipeline added, and deals closed, and much more depending on what's important to you.
For example, we had an event Campaign for a conference with 796 total leads/contacts (conference registrants) and, of those, we had 62 Booth Check-ins. Since we considered a Booth Check-in a response, we can report on our engagement at the conference.

I created a new section named "Results" that includes a custom field named "Total Campaign Members" (Formula: NumberOfLeads + NumberOfContacts) and the standard field "Total Responses" to quickly show the breakdown of the number of people the campaign vs. the number of engaged people.
Using Campaign reports before and after events
For events you're running and have shared an invitation for, you can use a "Campaign with Campaign Members" report in Salesforce to show the number of people who were invited and registered. You can use the same report post-event to show the number of attendees (or booth check-ins for a conference).
You can also use this report to show event engagement on a quarterly or annual basis to your Sales, Marketing, or Management team. You can slice and dice the information however you'd like -- you could compare the total number of people who registered to the number of people you interacted with, look at the budget allocated to the event vs. the pipeline created or deals won, and so on.
Getting attendance information back into Salesforce is an important part of tracking the success of your events. In my experience as a Sales & Marketing Ops Manager, I have found campaigns to be the most effective way to track this critical event information, which allows me to feel confident when reporting the true success and ROI of events and programming to the executive team.
Events represent a large investment, in both time and money, and tracking event participation is crucial to understanding event performance and the value you've derived from them. Using Salesforce Campaigns for events makes it easier to track participation and performance.